Friday, November 10, 2017 - 10:12
Haskins is encouraging gardeners to make the most of National Tree Week with a new competition to win a tree for the garden, school or local community.
National Tree Week takes place from Saturday November 25 until Sunday December 3. First initiated in 1975, it is the UK's largest tree celebration annually which launches the start of the winter tree planting season.
Haskins is celebrating this festival of trees by offering customers the chance to win their own Ornamental or Fruit Tree, up to the value of £50. The winner will be chosen the week before National Tree Week in order for the tree to be planted during the tree festival.
Lisa Looker, brand director at Haskins Garden Centres, commented: "We support the work of the Tree Council and their aim to inspire a quarter of a million people to get together and plant a million trees.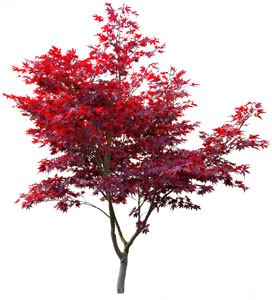 "We hope that with our competition, we will help encourage people to get their hands dirty and celebrate the value of trees. Entering is really simple – you just need to visit the Haskins website and advise where you would plant your tree and why, if you were chosen as the winner."
Haskins is offering 15 per cent off on all Ornamental and Fruit Trees during National Tree Week to further drive awareness about trees and their importance in a changing environment.
Alasdair Urquhart, in-house plant expert at Haskins Garden Centres, commented: "Trees are an essential element in a garden, creating interest, supporting wildlife and screening unsightly objects. There are lots of smaller trees that are perfect for modern gardens, offering multiple features such as autumn colour, interesting leaves or decorative fruits.
"To give a newly planted tree the best head start, remember to use a tree stake to help it survive strong winds and add a mycorrhizal powder to get the root system established. That way you can enjoy your tree for many years to come."
Visit www.haskins.co.uk/win-tree-competition to enter the competition. All entries must be received by Friday November 17.
Haskins has centres in Ferndown in Dorset, West End in Southampton and Roundstone and Snowhill in West Sussex. For more information visit www.haskins.co.uk