Tuesday, August 27, 2019 - 11:29
Universal Aquatak 135 High Pressure Washer (£179)
Editor Victoria Galligan tried out the Bosch pressure washer on her neglected driveway…
Jet washing is certainly a must for garden traders and for their customers alike. Whether it's cleaning paving, vehicles or equipment, the job needs to be done well – and quickly. This model caters for a variety or different jobs with its clever adjustable nozzle, so I got cracking on my dull-looking driveway and dusty car.
The 3-in-1 nozzle on the Universal Aquatak performs 10% better than its predecessors, according to Bosch, and allows the jet to be concentrated on a tiny area for cleaning in tight nooks and crannies. This 'pencil jet' setting can be adjusted to a rotary mode, or a fan spray for cleaning larger areas.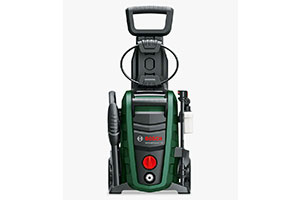 I was impressed by the handy detergent bottle which attaches to the nozzle, allowing my car shampoo to be distributed evening during the washing phase.
The cable length is 5m, which allowed me to move around the car with ease and not worry about the wire snagging.
Using the pressure washer on flagstones
Onto the driveway, which as you can see was fairly blackened by dirt and moss (I have to confess, it had been at least two years since its last clean!).
The Universal Aquatak performed well, cleaning each flagstone in an average of 45 seconds (longer for ingrained stains such as paint to be removed). The speed and ease of use made the task less labour-intensive than with the last pressure washer I had, so I think Bosch's claim about the 10% increase in performance is spot-on.
Speaking of my last pressure washer (I won't name and shame the brand, needless to say it wasn't Bosch!) – it bit the dust after a year of intermittent use, when I tried to attached the hose and found the connection had broken. Bosch have pre-empted this issue by including a plastic adapter which fits onto the front of the pressure washer, allowing easy connection of the hose. It did leak at first but I hadn't connected properly, so after a quick adjustment it was fine.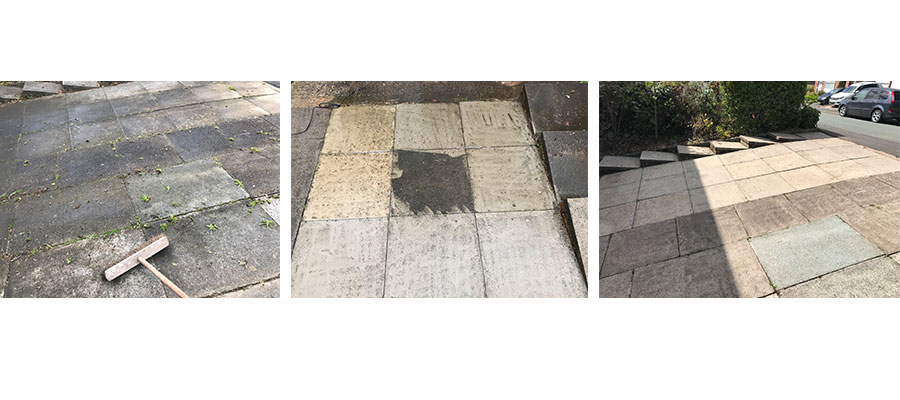 A compact, powerful pressure washer
On finishing the jobs, feeling rather smug at my shiny car and good-as-new driveway, it was time to pack the Universal Aquatak away. The extendable handle folded in neatly, the hose connection removes easily and the nozzle comes in separate pieces so putting away and storing back in the box is no drama – the last thing you want after a day's work is to spend ages dismantling the pressure washer, and with this model that won't happen.
Overall: a quality clean, easy to assemble and dismantle. I can thoroughly recommend and, whether you use for your business or decide to stock for customers, you won't be left disappointed – like I was with my last pressure washer!
To view the full pressure washer range from Bosch, click here.