Monday, September 14, 2020 - 17:01
The best patio heaters can extend the outdoor living season while offering customers top designs. As the weather turns colder and customers seek a heat source, Sarah Wilson, contributor at GardeningEtc.com, selects her pick of the best patio heaters…
When customers want to enjoy the garden but the temperature's not high enough, the best patio heaters let them enjoy the evenings for longer into autumn and winter. 
The best patio heaters can be a focal point in a garden as well as being functional. There's a great choice of heaters out there, including floorstanding, tabletop and pendant versions. We've picked both electricity and gas designs to offer customers an option when it comes to their preferred fuel.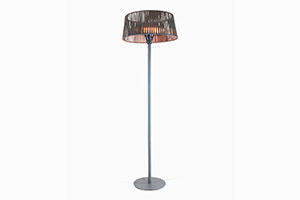 1. KETTLER KALOS PLUSH FLOORSTANDING ELECTRIC PATIO HEATER, John Lewis, £179
Looking like a floor lamp, this heater has bags of style and, as it's electric, there's no fuel to store. The cable is 1.8 metres in length. As well as functioning as a heater, this design provides LED light, too. The base is made from cast iron and is weighted, and there's a safety tilt cut-off mechanism. The heater also comes with bracket to fix the base to the ground.
SPECIFICATIONS
Best for: Faff-free heating
Fuel: Electricity
Materials: Aluminium and iron
Dimensions: H215 x Dia.74cm
REASONS TO BUY
- Sleek lines
- Handsome design 
- Easy to use
REASONS TO AVOID
- Partial self-assembly 
- Requires inside storage when not in use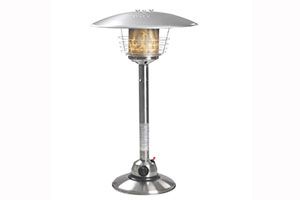 2. FIREFLY TABLE TOP PATIO HEATER, Primrose.co.uk, £119
Put this design at the centre of any outdoor dining table. A tabletop patio heater can be a space saver. With a stainless steel base, this design could be the perfect complement to existing garden furniture creating a co-ordinated finish. We like the fact that this electric design has a 3m cable for ease of positioning. 
SPECIFICATIONS
Best for : Sizing down 
Fuel: Electricity 
Materials: Aluminium alloy, stainless steel and rattan 
Dimensions: H88 x Dia. 53.5cm
REASONS TO BUY
- Space-saving option
- Three heat settings 
- 3m cable
REASONS TO AVOID
- Requires a big enough table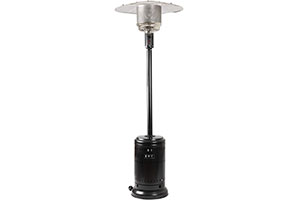 3. AMAZONBASICS HAVANA BRONZE COMMERCIAL PATIO HEATER, Amazon, £119.99
Exterior warmth at a pocket-friendly price. If your customers don't mind using gas cylinders as a fuel source, this design can save money. On wheels, this patio heater can be moved without the worry about cables. There's a base reservoir system with this design. Fill it with sand or water to create weight low down. For safety, there's a shut-off tilt valve that turns it off should it tip over in high winds.
SPECIFICATIONS
Best for: Smaller budgets 
Fuel: Gas 
Materials: Steel 
Dimensions: H226.1 x W101.6 x D83.8cm
REASONS TO BUY
- Budget buy 
- On wheels 
- Safety auto shut-off tilt valve
REASONS TO AVOID
- Requires purchase and storage of  gas cylinders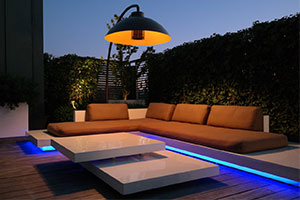 4. HEATSAIL DOME FREESTANDING PATIO HEATER FLOOR LAMP, CUCKOOLAND.COM, £2,995
Make a statement with a striking contemporary model. This contemporary design will make a statement and complement a modern garden design. With a hood that's 100 x 50cm and a curvaceous stand, this design's definitely attention grabbing as well as functional. It comes with a remote control to adjust the heat and light, and customers can even have waterproof Bluetooth speakers in the base of this design – although they don't come as standard.
SPECIFICATIONS
Best for: Contemporary garden designs 
Fuel: Electricity 
Materials: Stainless steel and aluminium
Dimensions: H235.3 x W225.5cm
REASONS TO BUY
- Can stay outside year round 
- Remote control 
- Wheels on base 
- Provides light as well as heat
REASONS TO AVOID
- High budget option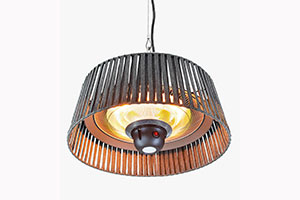 5. KETTLER KALOS PLUSH HANGING PENDANT ELECTRIC PATIO HEATER, John Lewis, £179
Keep the outside space clutter free with a hanging heater. Getting the heat from a pendant is a space-efficient solution to cool evenings, leaving the patio and the tabletop free of extras. As it's fitted with an LED light this design will provide atmospheric lighting for a table or seating group as well as heat. Stay seated and control this attractive contemporary heater with the remote. 
SPECIFICATIONS
Best for : Sleek results 
Fuel: Electricity 
Materials : Aluminium and iron 
Dimensions : H24 x Dia. 60cm
REASONS TO BUY
- Space saver 
- LED light
- Remote control 
- 1.8m cable
REASONS TO AVOID
- Needs somewhere to hang from