Monday, June 11, 2018 - 14:11
Summer is here and two Ribble Valley favourites, The Emporium in Clitheroe and The Shireburn Arms at Hurst Green, have joined forces to share al fresco entertaining tips to help stage the best garden parties this season. Here, Holly Tyne, interior design manager at the Moor Lane store and Didier Vincent, general manager of the 17th century inn, list their top pointers.
Al fresco dining can be a glorious garden party, a relaxed picnic or anything in between, but all need key ingredients to make for a memorable event.
Said Holly:
"The setting, the food and the crockery all need to be spot on and a few thoughtful extras such as candle lanterns, bunting or fairy lights can make all the difference."
Of course, the only thing you can't change is the weather but with careful planning all eventualities can be covered.
Holly continued: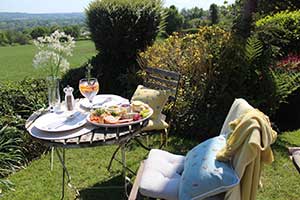 "Umbrellas are wonderful things and windbreaks are not just for the beach. Make the most of gazebos and pergolas. If you don't have a patio heater or a camp fire, or it's a bit chilly, maybe think about providing a stack of folded, cosy fleece or woollen blankets or throws which guests can reach for when the temperature drops. Cushions are a nice touch too. However, it's a good idea to have an indoor space available too, just in case!
Give your garden furniture some thought too. If it's come out of winter storage looking tired, now is a great time to invest in some new outdoor tables and seating."
The garden itself is crucial if a big party is on the cards and if it's an occasion planned some time in advance, weaving some green fingered magic will pay big dividends.
Didier said:
"Once a date is set, the garden preparation begins. Start to think about how your outside space will look a few weeks ahead. Lawns may need some TLC, bearing in mind that any re-seeding will need to be well-established before people are allowed to walk on it. Prune when appropriate for the best looking plants, train beautiful climbers to weave around rustic pergolas and think about where you will place your barbecue or food table. It's not a good idea to have lots of people milling about next to a prickly holly bush or roses."
Food choices are many and varied from a barbecue to a picnic, but all outdoor dining, whether a simple tea for two or a social gathering is best if it can be eaten easily with minimum mess.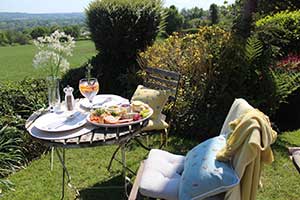 Didier said:
"Food can be much more sophisticated than a burger or hotdog. Marinated meats, shell on prawns, vegetable skewers and masses of tasty, colourful salads are perfect for outdoor dining. Look no further than the Bowland Food Hall in Clitheroe for barbecue and picnic inspiration."
Holly had advice for picnickers:
"There are some really lovely picnic hampers for sale with beautiful cutlery and crockery which can be used to stage a vintage-themed afternoon tea, almost on a whim. A carefully chosen hamper teamed with a striking picnic rug will set the scene for a romantic al fresco snack.
"If you don't have your own hamper, or wish to limit the washing up, then the environment and the use of plastics is a big consideration these days. There are some beautiful, disposable paper plates and wooden cutlery available. Disposable table linen and napkins can be sourced in some striking colours and prints.
"Some strategically placed rubbish bins and bags are a really good idea to help guests wondering where to discard their empties and leftovers."
Last but not least, don't forget the sun cream!
James' Places is a portfolio of hotels, inns, interior design and hospitality businesses across the Ribble Valley and Yorkshire Dales sharing the same service values and ethos for beautiful surroundings with exceptional food and drink.
For more information about how to throw the best Garden parties please visit www.theemporiumclitheroe.co.uk/