Thursday, February 1, 2018 - 13:13
Why have you chosen to exhibit at Glee's Spring Fair concession event?
We feel that the timing of the Spring Fair exhibition is the ideal time of year to present our plants to the market, with immediate turn around to optimise consumer spending habits. The core sales season is just around the corner, so we want to be able to showcase our bay trees looking their best ahead of this key sales spike. 
Do you exhibit at the main September exhibition?
We do indeed. We have been proudly exhibiting at Glee for the last six years. The exhibition is a key part of our annual event calendar and planning.
What products/ ranges will you showcasing?
We will be using Glee at Spring Fair to showcase our bay trees, and Laurus nobilis topiary plants.  Both are the perfect for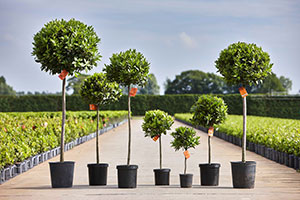 placing on terraces, throughout the garden or to frame the front door. Our trees are still relatively unknown in the UK so we're excited to showcase the 'Laurica difference'. 
Why should retailers visit your stand?
Any retailer wanting to access the most exciting selection of bay trees should make a beeline to our stand at Glee at Spring Fair (stand 3D30).  Our collection includes an assortment of bay trees - including crown on stem, pyramid shape, spiral stems, balls, and column on stem – all of which are grown at our nursery in Belgium. It is here where we stock the widest and most valuable collection of pre-shaped laurel trees in all Europe, all available at a highly competitive price.
What are your plans for the rest of 2018?
We are just about to embark on the main sales season so we're excited for this. We have developed a lot of new and exciting stock, in a range of shapes and sizes, so we're looking forward to bringing these to market.
We also have Glee's main September exhibition to prep for! It's set to be a busy year! 
What trends are you most excited about in the coming seasons?
There are two trends that we, at Laurica Plants, are particularly excited about. Firstly, the increased popularity of evergreen plants is an exciting prospect. The rise of houseplant sales is also helping to drive the market, particularly amongst the younger generation who recognise the health benefits of plants in the home.