Friday, September 13, 2019 - 09:38
With the festive period representing the busiest and most profitable retail period for garden centres, it is more important than ever to stand out from the competition. 

In the run-up to Christmas, customers want to immerse themselves in the festive spirit and they expect garden centres to deliver a magical experience.

Looking for a stress-free Christmas?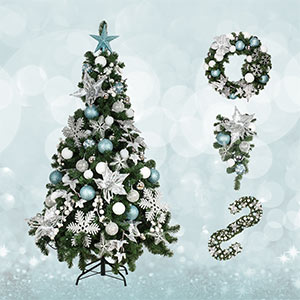 Turning your garden centre into a 'Christmas destination' is no easy task though. There are lots to consider, how many baubles to buy, have you got enough fairy lights, which colours work together - the list goes on…

But commercial Christmas experts Fizzco Trade have come up with the answer – ready-made themed decoration displays which provide everything you need to transform your garden centre with professional co-ordinated displays.

Wendy Clarkson, Managing Director at Fizzco Trade says: "While Christmas may be the peak sales period for garden centres it can also be the most stressful.  

"Our Christmas theme packs are designed to make it easy and hassle-free for garden centres to create professional displays. The Christmas tree theme pack, for instance, comes with a 6ft artificial tree and includes a variety of unique colour themed decorations, including baubles, picks and flowers, plus a set of LED lights so you don't need to calculate how many baubles you need and which colours go together. We've done all the hard work for you!
Pre-decorated garlands and wreaths

"For added convenience, we also offer pre-decorated artificial foliage, available as garlands, wreaths, teardrops which are handmade by our in-house experts and delivered ready to hang so all you have to do is take it out of the box and install – get ready for Christmas has never been easier!"

Traditional & contemporary Christmas decoration themes

In total there are over 20 themes to choose from, including timeless classics such as Winter Woodland and Traditional Christmas and contemporary styles such as  Berry Christmas and Precious Metals, to glamorous themes like Antique Chic and Cinnamon Ice and fun colourful displays like Citrus Burst and Circus.

New themes for 219 include Vintage Pearl, Double Denim, Seasonal Safari and Steampunk.
For a totally unique look, Fizzco also offer a bespoke service, enabling you to create your own theme with the help of our in-house design team.

Top tips to get 'Christmas ready'

Wendy Clarkson offers her top Christmas tips to help kick-start your preparations:

•    Create a dazzling display which wows your customers and gets them in the festive spirit
•    Give the customers what they want – high quality, on-trend decorations.
•    Make Christmas easy – take advantage of our pre-decorated and matching themed decorations
•    Plan ahead and place your orders early
•    Use the Christmas experts' extensive knowledge to delight and inspire your customers.