Wednesday, June 10, 2020 - 15:30
At a time of huge uncertainly for many businesses, one entrepreneur , Ex Scruffs Marketing Head, is launching a new enterprise aimed squarely at supporting small businesses.
 
True Blue Marketing™ is the brainchild of Chris Mellor-Dolman and aims to help businesses as they emerge in the new landscape post Covid-19.
 
Marketer Chris has a track record spanning 20 years with award-winning construction trade brands including Scruffs, Van Vault and Defender.  He was made redundant prior to the pandemic and has spent the past few months planning the launch of his marketing service. 
 
According to a recent survey by Simply Business coronavirus has cost SMEs a total of £69billion, and two-fifths are in danger of closing.  Fourteen per cent said that they could shut down in the next three months. Four per cent of small business owners say they have already closed permanently because of the pandemic – an estimated 234,400 closures across the UK.
Chris co-founded the Scruffs brand and helped build it to become a hugely successfully business with year-on-year sales increases - most recently an 18% increase in 2019/20. His remit included brand social media which delivered 35 million views and grew the Scruffs Facebook page to 57k followers. His campaigns were also recognised with several industry awards.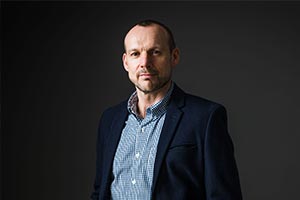 Chris comments "I have over 20 years' achievement driving B2B & B2C sales across corporate and product branding, internal and external communications, multichannel campaigns and message development.  My forte will be in providing marketing direction, management and advice to small businesses that want to accelerate their commercial success."
 
"To rebuild their businesses post-lockdown, I believe many will be looking for outside help to re-establish themselves in a very different world to the one we knew before. It's with this sense of optimism that I launch True Blue Marketing, bringing 'good news and hope' during challenging times."
 
True Blue Marketing™ has been set up to support a range of industries, targeting mainly small companies that struggle to find the time and resources to manage their marketing. Its marketing services will free up time and resources so that business owners can concentrate on what they do best - directing their own operation to get back on their feet as quickly as possible.
 
True Blue Marketing's services include marketing strategy and implementation, covering all major marketing areas from social media to brand development.
 
Chris added "Using me as their outsourced marketing manager I will create bespoke strategic plans that are aligned to their business goals and customers. I will then implement them with skilfully executed campaigns using persuasive tools and techniques that deliver results."
 
His dedicated Post-Lockdown Restart Package includes social, email and blog activity to help small businesses get back to being front-of-mind with their customers and prospects by maximising their exposure after the Covid-19 Lockdown.  Other packages include an 'Email ACTION Package' and a 'Marketing REVIEW Package', along with flexible options to suit individual businesses.
 
Chris is a chartered marketer and a fully qualified member of industry bodies the Chartered Institute of Marketing (CIM) and the Digital Marketing Institute (DMI).
 
http://truebluemarketing.co.uk/