Wednesday, June 6, 2018 - 13:25
A Castleford catering supervisor has been awarded a place on a new training programme, Rising Stars initiative, developing garden centre catering staff.
Following the success of the Garden Centre Association's (GCA) Rising Stars initiative, a new programme aimed at garden centre catering staff was launched at its conference in January and catering staff from all over the UK were invited to apply.
 
Susie Jarrett from Tong Garden Centre was awarded one of the ten coveted places on the programme that comprises four masterclasses designed to help staff to improve their knowledge and experience, as well as giving them exposure and insight in the wider marketplace.
Having completed the first masterclass at Barton Grange Garden Centre in Preston in April, where the group undertook a café survey and discussed financial control, presentation/merchandising and price comparison, Susie and the group were tasked with a business-specific project that they will present to their peers at the second masterclass at Planters Garden Centre in Tamworth on 20th June.
Susie, who is responsible for rotas and promotions at Tong Garden Centre's busy 400 seater restaurant said:
"I love creating promotions for themed menus like Pie Week, Wimbledon and ideas for seasonal and limited edition products, so my project is how to market our Tong -baked scone of the month, freshly made every day in our in-store bakery.
Susie's line manager, Catharine Westmoreland, is very proud of her team member:
"Susie is a valued member of our team and her commitment and passion are unquestionable. She has put in so much work out of hours to make the most of this amazing opportunity and I really hope that she gets the success that she deserves."
The third masterclass will be held in central London. This will be a tour of Central London cafés, restaurants and coffee shops to inspire the candidates, and stretch their boundaries.
Iain Wylie, Chief Executive of the GCA, said: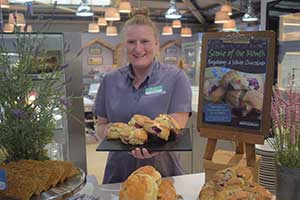 "Between masterclasses, the Rising Stars will complete exercises on what they have learnt within their own garden centres and assess the performance of their centre's catering unit, try out new ideas and evaluate the results. Examples include benchmarking against local competition and researching good and bad examples of food presentation."
 
"For the fourth masterclass, the top five candidates will have a fantastic opportunity to spend some time in Creed's development kitchen with ex-England rugby captain, 2011 Celebrity MasterChef winner Phil Vickery MBE. Phil will also help coach and prepare the top five to present at our conference in January 2019. Conference delegates will then choose an overall winner, who will be crowned the 'GCA Catering Rising Star 2018'."
Sponsored by Creed Foodservice and facilitated by Chris Brown from Turpin Smale Catering Consultants, the programme has been developed to highlight and develop the talented individuals in garden centre restaurants and cafés and to recognise the important role that catering plays in the industry.
Tong Garden Centre occupies a 14 acre site in Tong village. It is one of Yorkshire's biggest garden centres with 110,000 square feet of retail space and parking for up to 1,000 cars.
For  more information about The Rising Stars initiative please click here