Thursday, July 5, 2018 - 16:46
The gardening and horticultural industry have seen some innovative new products throughout 2019, while the tried and tested brands continue to develop and keep pace with consumer demand. For great networking, buying and training opportunities, whether you're an exhibitor, a buyer or both, check out our pick of the best trade shows…
The Summer Outdoor Living Exhibition promises to be bigger, better and more enticing than ever before in 2019. Traders can see the latest designs in garden furniture, barbecues, outdoor lighting, parasols, gazebos and outdoor play equipment among other products. See brands including Barlow Tyrie, whose seashell-inspired Dune set was designed by the renowned New York designer Vladimir Kagan.
NB: SOLEX is a Trade Show for LOFA members only and you will need to become a member of LOFA to exhibit. You can do this by emailing the secretary on solex@lofa.com
The RHS Flower Show is a fair where flowers, ornamental plants and garden equipment will be on display, attracting the visiting public and professional gardeners alike. It offers exhibitors the opportunity to present their latest achievements in the field. Visitors can expect to find a wide selection of flowers and shrubs and a variety of accessories for garden and park design. Many exhibitors will offer helpful tips on garden design and plant care. Informative lectures and workshops on the latest topics make this horticultural fair a must-visit for 2019.
Whether it's by unearthing innovative and inspiring products from 200 new-to-market companies in The Discovery Zone, or debating the latest trends on the Food for Thought stage, Speciality & Fine Food Fair will allow you to experience the finest in food and drink in a way that simply cannot be done over the phone, online or in print.
Taking place annually at the easily accessible and iconic Olympia London, the Fair is the centre of excellence for the high-end food and drink world, as well as a chance to learn and be inspired by top retail specialists and industry disruptors. Look out for artisan, craft and start-up food and drink producers who will be keen to have their goods stocked in your café, deli or farm shop.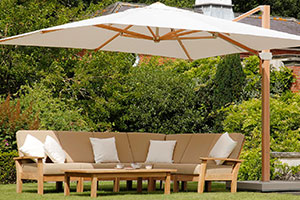 Along with the exhibitors and products on display, Autumn Fair offers valuable retail insight through its seminars and workshops. Retailers can source from over 200,000 new products, particularly for the Christmas period and spring season. This year's show will feature exhibitors including Classic Canes which uses wood sourced from its Somerset base to make traditional and contemporary walking sticks, folding and orthopaedic canes, seat sticks and umbrellas. Meanwhile, Tilnar Art has produced a recycled aluminium range of beautifully designed tableware.
Billed as "the largest garden fair in the world", it's worth the plane ticket to get yourself to this event. With an Outdoor Furniture Trend Show, and Icons of spoga+gafa section, experts from all industries – including education and design – were on hand at 2018's event to provide their insight into the garden trade. The website says: "Experience the garden in all its diversity! Let yourself be impressed and inspired for the coming season by the exciting, fresh ideas of the complete garden industry – and discover the garden of the future."
Organisers cite a steady growth in specimen plants and mature stock from across Europe boosting the nursery sector – even as we prepare to leave the EU. Massive displays of plant material form the heart of this show, with associated supplies and services from production to point-of-sale. Over 35% of participating companies will be from overseas. With horticulture and nursery businesses making up a majority of the attendance list, it's a great event to source suppliers – particularly in ornamental products. Garden Trade Specialist will be at the event and our must-see stands will be Anglo Eastern Trading Co for colourful, quirky pots, Poplar Nurseries – a family business which has been trading in Colchester since 1938 – and Sinclair Pro which puts science at the heart of growing to boost production.
Whether it's homeware, gifts, tableware or toys you're looking for, you'll find it at the well-established event where the focus is on "extraordinary and distinctive" design-led brands. Look out for men's accessory section MR. Lifestyle, which returns following its successful launch at Top Drawer in January. Organisers point to a predicted 11% growth in the menswear market by 2022.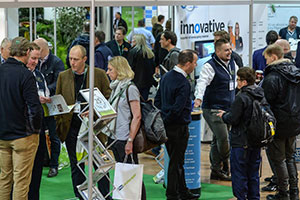 There's no doubt Glee is a big date in the calendar – the 500 brands, thousands of products and wealth of information and advice on offer make it a continually popular event. In particular, the Retail Lab and the section for Pets at Glee made 2018's event a real treat for traders – drawing in 7,000+ visitors. Look out for Leisure Grow's contemporary selection of garden furniture and other outdoor living products, Spear & Jackson's well-known brand of garden tools which have been a hit since 1760 and Norfolk Greenhouses, whose range of outdoor buildings allow extra space for growing, planting and relaxing!
This event provides the ideal platform for organisations to showcase leading trend products, new services, key skills as well as being the perfect environment for visitors to discover the newest and most innovative products and solutions to help them in their designs and projects. A trade event dedicated to qualified garden designers, landscape architects and contractors, Lanscape is a platform for them to network and source market-leading products to use in high-end projects worldwide.
With over 200 exhibitors, 1,000's of products, hundreds of new product launches, free entry and free parking, PATS is where the pet trade meets to do business. To see the latest products for your garden centre you'd be hard pushed to find a bigger event – a total of 3,848 pet retailers attended both PATS Sandown and Telford in 2018. This year, look out for George Barclay's ClimaCOOL dog jackets which keep pooches cool during hot weather, plus its elegant and stylish dog beds – made from hand-picked luxury fabrics, no less – and MuttMOP towels and robes which reduce wet dog smell issues after a swim in the local pond! Meanwhile, Pets & Pod Studios offers modern furniture for pets perfect for the fashion-conscious animal lover, Burns Pet Food will showcase its range of naturally healthy products and Fish 4 Dogs are set to prove how Omega 3-rich diets can boost canine wellbeing – and leave cats feline fine too!
AQUA, the market-leading showcase for the UK's water gardening and aquatics trade, offers space-only stands from just £109. And with free entry and free parking, it's bound to be popular with visitors. One visitor, Pete Carey from Pets At Home, said after the last event: "Another amazing show by the Aqua team. The show was very busy this year and it was so good to see so many aquatics people together and showing that the industry is thriving and growing. Lots of innovation and new products also added to the vibrant and exciting show."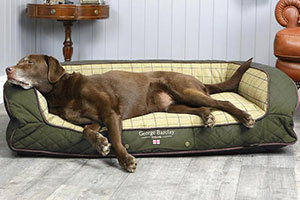 This event is one professional landscapers will not want to miss. FutureScape is renowned for its seminars and debates. This year's programme will cover a huge range of useful topics, from business information, to technical knowledge and product demonstrations. They are an ideal way to educate yourself with current technical knowledge, and upcoming industry trends.
Garden trade shows 2018: From Solex to spaniels
The trade show season for 2018 is gearing up and promises to be a lucrative time for garden centre traders, with sales to make and people to meet. Here, we look at a selection of the big trade shows and highlight the speakers and exhibitors which we think are must-sees. We at Garden Trade Specialist also look forward to meeting you at some of the shows!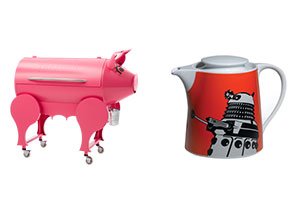 • Solex, July 10 -13 2018, NEC Birmingham
See the latest trends and innovations in outdoor living at this year's SOLEX exhibition. Organisers promise that Solex will be bigger, better and more enticing than ever before, adding, "Visit us to see the latest designs in garden furniture, barbecues, outdoor lighting, parasols, gazebos and outdoor play equipment."
Watch out for: The Alfresco Chef, offering ovens and grills from brands including Traeger, who make this pork-tastic pink pig grill. Not to be outdone, Outback International have made a patio heater called the Flame Tower which is an impressive way to heat and light the garden. And Barlow Tyrie is a family business that has been making outdoor furniture since 1920, and their designs combine contemporary design with excellent workmanship. 
• Autumn Fair, September 2 to 5 2018, NEC Birmingham
Perfectly timed for short orders and Christmas, Autumn Fair is the ideal place for retailers and buyers to find new brands and the latest products from thousands of suppliers. The event will give you "loads of fresh inspiration" for the season ahead.
Watch out for: Addison Ross, a British company specialising in luxury photo frames, clocks and home fragrance. The designs are fresh and sleek, which customers are bound to appreciate. GetRetro sells products related to science-fiction, fantasy, cult genres, and classic TV and movie brands for those hard-to-buy-for people.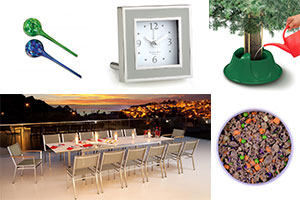 • Spoga + Gafa, September 2 to 4 2018, Cologne, Germany
spoga+gafa is billed as the number one event worldwide among the garden fairs. With out-of-the-box thinking on a global scale, the focus here is on the state of affairs in the worldwide trade, the big names in industry and exciting newcomers. Organisers say, "Over 2,000 exhibitors from all over the world begin their success stories, set trends and trigger off the decisive developments of the coming months at spoga+gafa. The trade fair is the place-to-be and a clear must-attend event for all those, who want to celebrate success in the garden industry."
Watch out for: Networking opportunities through the platform Matchmaking365 – gain valuable business contacts as a trade visitor, benefit from precise information, attractive offers and schedule your meetings for the trade fair from your desk or via the mobile app. Bestway Inflatables & Material Corp, producer of the sought-after Lay-Z-Spa and above-ground pools, will be exhibiting.  
• Four Oaks, Sep 4 and 5 2018, Macclesfield, Cheshire 
Four Oaks – the commercial horticultural show now in its 48th year – takes place on a 23-acre nursery site. Event planners say, "The last decade has brought a steady growth to the nursery sector, specifically specimen plants and mature stock from across Europe. Massive displays of plant material form the heart of the show, with associated supplies and services from production to point-of-sale. Over 40% of participating companies will be from overseas." 
Watch out for: The Christmas Cabin – sorry for using the "C" word but as we all know, preparations begin early in the trade. This retailer offers everything you need for your Christmas tree displays, from water-holding stands to pallets used for transporting bulk supplies straight from the field. Zest 4 Leisure uses FSC-certified timber for its garden furniture, fencing and outdoor living products and its gazebos really are something to cherish.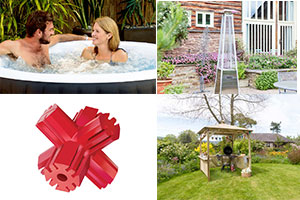 • Glee, September 10 to 12 2018, NEC Birmingham
Glee showcases the freshest and most exciting brands, amazing new products and inspiring garden retail insights. With sections including landscaping and garden decoration, outdoor entertainment and home, gift and clothing, Glee has it covered. Bring your comfy shoes because you will be walking for miles to fit everything in!
Watch out for: Neat Ideas, who offer innovative products such as the Aqua Globes, as well as clever, high-tech in-store media promotion. Yorkshire Flowerpots are manufacturers of a British-made, guaranteed frost-proof range of planters and their solid designs offer customers longevity.

• The Landscape Show, September 18 to 19 2018, Battersea Park, London
"From country homes to city apartments, from urban lofts and public spaces to luxury hotels... the indoor-outdoor phenomenon affects all types of living spaces," say show planners. From weatherproof rugs to outdoor kitchens, this trade event is dedicated to garden designers, landscape architects and contractors and features high-end projects to drool over.
Watch out for: Speakers including Sarah Morgan from the Society of Garden Designers, and Peter Heath – architect and town planner from Atkins Global. And don't forget visitors are learning along the way. Expand your knowledge by attending the free CPD-accredited seminar sessions.

• PATS, September 23 to 24 2018, Telford
This pet trade event showcases thousands of products and over 300 brands and companies all under one roof. Running since 2009, the event has grown to attract over 4,000 retailers.
Watch out for: Different Dog, bringing the first home-cooked frozen dog food to the UK retail market for the pooch with the picky palate. And since 1976 Kong have been making toys which boast quality, durability, safety, and value and are recommended by veterinarians, trainers and behaviourists worldwide. Their teeth-cleaning models are a must for canines.