Tuesday, July 16, 2019 - 10:59
The retail Sales Manager at one of the UK's leading nurseries has picked his top five plants for garden centres for 2020.
 
Colin Stanley from Wyevale Nurseries selected the plants from the company's 90th Anniversary Celebratory Promotional catalogue.
 
Colin explained: "I have selected my top five plants, which I think really show how we are at the forefront of new and innovative varieties and that display the diversity of our extensive range. They are Dryopteris 'Jurassic Gold', the Potentilla Double Punch Collection, Hydrangea 'Runaway Bride Snow White', Agapanthus 'Fireworks' and Raspberry 'Yummy'. Some of these are award-winning plants as Dryopteris 'Jurassic Gold' won the Best New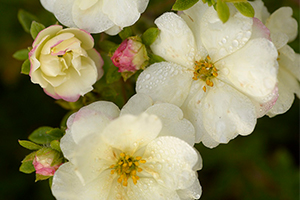 Plant in the Hardy Nursery Stock Category at Four Oaks in 2018, Hydrangea 'Runaway Bride Snow White' was awarded RHS Chelsea Plant of the Year for 2018 – you could say it's been a runaway success! And finally, Agapanthus 'Fireworks' won third place as Chelsea Plant of the Year for 2019. We feel these plants will be very popular with retail customers as they all have a certain characteristic that will be very appealing to gardeners, whether it's their colour, floral display, size or crop of fruit, we feel they are the best of the best for 2020."
 
Dryopteris 'Jurassic Gold' is a brand-new addition, which erupts into golden new foliage in the spring. It is shade and moisture tolerant and will grow well in a patio pot or planted in groups for a striking gold contrast. This hardy fern will be available in a 3-litre pot in June 2020.
 
Potentilla Double Punch Collection is a brand-new collection of breakthrough double flowering Potentilla in a strong colour range. Forming a neat and compact mound, these make ideal container shrubs or suitable for beds and borders.
 
The collection includes Potentilla 'Double Punch Cream', Potentilla 'Double Punch Pastel', Potentilla 'Double Punch Gold' and Potentilla 'Double Punch Peach'.
 
Colin added: "Hydrangea 'Runaway Bride Snow White' is one of the most floriferous and vigorous hydrangeas making it very appealing. It has masses of white lace cap flowers with a hint of pale pink and has six times more flowers than the average hydrangea. The confetti like flowers form in garlands along the full length of the stem at every leaf joint. It flowers from late spring/early summer well into autumn. Available in a 6 litre pot from June 2020. Agapanthus 'Fireworks' has stunning, eye catching, glorious bi-colour blue and white blooms that explode into life. The flower heads are supersize and densely packed with trumpet shape flowers. It grows to a medium height to around 50-60cm. It's a significant improvement on Agapanthus 'Twister'. It will be available in a 2 litre pot from May 2020. Last but not least is Raspberry 'Yummy'. A dwarf and compact raspberry that will give a crop of fruit in its first year. It's an ideal patio plant that comes ready to place in the garden. It fruits throughout the summer and is supplied in a red patio pot. Available in a 5 litre pot from April 2020."
 
The product selection available from Wyevale Nurseries is envied across the industry and the talented team regularly introduces new, award-winning plant varieties.
 
Its main business is to supply garden centres, landscape contractors, local authorities, foresters and landowners with a comprehensive array of trees, shrubs, hedging, herbaceous and specimen plants.
 
For further details about Wyevale Nurseries and its top five plants, please call 01432 845 200, visit www.wyevalenurseries.co.uk, follow the company on Twitter at www.twitter.com/WyevaleNurs or log on to www.facebook.com/WyevaleNurs.