Tuesday, May 28, 2019 - 11:34
paragraphs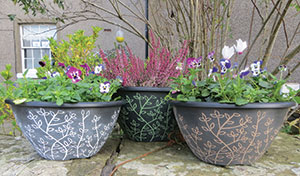 Anglo Eastern Trading's Serenity Planter and Bowl Range feature an etched floral design that really does give them a quite distinctively different look and feel. They are available in a range of beautifully contrasting colour combinations that enhance their attractive appearance. Other plus points include they are frost proof, UV fade resistant and score well environmentally being made from 100% recycled plastics. 
"The Serenity Planters and Bowls are a real breath of fresh air"commented Nigel Guffogg- Sales Director at  Anglo
Eastern. "We are currently offering some great deals on this range and our agents are available to drop in samples to show retailers just how good the Serenity Planters and Bowls really are"he added.
The Serenity Planters are available in 25cm to 41cm sizes and the Serenity Bowls in 30cm and 36cm sizes. They are
in stock and available for delivery now. Carriage paid order £300 ex VAT. National delivery in 3 working days and very
competitive pricing make the Serenity Range a very attractive proposition for the 2019 Summer season.