Tuesday, May 15, 2018 - 16:01
Garden centres are getting a helping hand with their accounts from the new HMRC-recommended Rhino App.
HMRC Approves the Rhino Small Business App for Digital Record Keeping and Direct Accounts Submission to its new Making Tax Digital Platform.
As part of its Making Tax Digital (MTD) initiative, HMRC has approved the new Rhino App for the submission of business accounts directly from the app to its online MTD portal. That portal went live on 15th March 2018. Rhino integrates directly into the Making Tax Digital platform and is the only accounts package approved by HMRC that allows a business to submit its own returns.
Direct access for HMRC updates just requires a few clicks, making return submissions easier, faster and cheaper for Rhino's user base of sole traders, small and medium sized businesses. The developers of Rhino App worked closely with HMRC to design and build the new platform. Significantly, the Rhino App package was expressly designed from the ground up for use on smartphones and tablet platforms. It operates conveniently and seamlessly across a user's mobile devices and popular web browsers.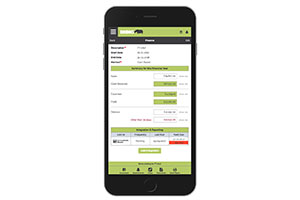 Unlike many accounting apps, Rhino provides its full feature set via the mobile device. Functionality includes contact management, estimating, invoicing, expense tracking and financial management. And now the app integrates directly with HMRC for direct submission to save businesses time and cost.
To make getting started with Rhino fast and simple, the app offers selectable configurations featuring sector-specific terminology for several popular business areas, such as retail, building trades, professional services and many others.
At the heart of the Rhino App philosophy is a stated commitment to champion small businesses. Rhino app founder, Eugene Blaine, drew upon years of corporate software development expertise to re-engineer the pivotal features of those solutions to an agile mobile platform. "We wanted to stand up for small business and help drive success by making the Rhino app powerful but incredibly easy to use," he states. "With that goal achieved, Rhino users can reduce their accounting fees and tax bills."
The simplicity of the Rhino app and ease with which estimates, invoicing, expenditure and finance can be managed alleviates the burden of administration that so often eats into personal time for sole traders and small business owners. "Rhino can give them their evenings and weekends back. That's the tangible measure of success," claims Blaine.
For more information on Rhino App, see rhinoapps.com