Friday, April 5, 2019 - 11:51
Gardening book author Esther Coombs explains why her book Plant, Sow, Make & Grow would be a great addition to a garden centre's seeds section…
As parents everywhere get to the garden centre and find themselves playing seed pick-n-mix with their children, they all look exciting and totally growable on the rack, but then parents get home and think: "Now what do we do?" It's not an experience that tempts customers back the following year.
With Plant, Sow, Make & Grow placed strategically displayed near the seeds section, you can deliver to the customer not only the seeds or plug plants which they might have left with, but also the information and ideas for exciting activities to encourage them to purchase with confidence all they need for successful growing with their child and therefore every reason to return.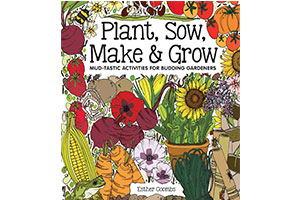 Plant, Sow, Make & Grow is a book grown out of parental necessity mixed with a classic a primary school Mum experience. My daughter's school needed a volunteer to run a gardening club that had been a bit neglected to say the least! My daughter loved growing at home and every time we planted and grew the learning and creative rewards were abundant so regardless for the task at hand I wanted to share what I'd learnt and successes we had at school and further afield. This book is the best of what we did there, created to help other parents and carers replicate our home and gardening club experience with very little cost or stress. I believe there is no better place for it than garden centres!
This book is all about getting growing with children and learning about the fun and rewards that brings, it's full of interesting activities, information and all the mudtastic sense of achievement eating home-grown veg creates.
To buy the Plant, Sow, Make & Grow gardening book for kids (rrp £12.99), see wordery.com and for trade enquiries contact esther@esthercoombs.com