Monday, March 16, 2020 - 10:16
ONE OF the UK's leading commercial nurseries has added a brand-new introduction to its promotional range – Agapanthus 'Poppin Purple' (March, 2020).
 
The new Agapanthus will be available from April (2020) onwards.
 
Colin Stanley, Retail Sales Manager at Wyevale Nurseries in Hereford, which celebrates its 90th Anniversary this year, said: "We're delighted to add Agapanthus 'Poppin Purple' to our range. It's a truly stunning plant and was recently crowned Best New Perennial at the 2020 IPM Essen, the world's leading horticultural trade fair.
 
"Unlike any other purple varieties, this Agapanthus will rebloom throughout the season. It has intense, metallic, 'true' purple flowers. The flower heads form in full spheres giving a fabulous display for a prolonged flowering period. 
 
"The plants are short and compact growing with dark evergreen leaves. They grow to approximately 60cm tall and 45cm wide. They are best planted in full sun and well-drained soil. It's an ideal plant for mixed borders or container planting. Agapanthus 'Poppin Purple' is easy to grow and maintain plus hardy to around -12oc.
 
"It was bred by De Wet Plant Breeders in South Africa. They also bred Agapanthus 'Fireworks', our standout star plant of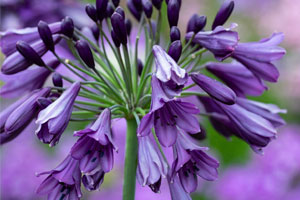 2019, along with Ever Sapphire and Ever White."
 
It will be available in a two-litre pot from April, 2020 with a RRP of £11.99.
 
The product selection available from Wyevale Nurseries is envied across the industry and the talented team regularly introduces new, award-winning plant varieties.
 
Its main business is to supply garden centres, landscape contractors, local authorities, foresters and landowners with a comprehensive array of trees, shrubs, hedging, herbaceous and specimen plants.
 
For further details about Wyevale Nurseries, which is based in Hereford, please call 01432 845 200, visit www.wyevalenurseries.co.uk, follow the company on Twitter at www.twitter.com/WyevaleNurs or log on to www.facebook.com/WyevaleNurs.