Thursday, June 17, 2021 - 12:08
As the welcomed summer sun is finally seeping into our gardens, balconies and outdoor spaces, and fauna and flora is looking lush, at the same time water supplies can also become scarce. Fresh water is essential for wild bird wellbeing so it is important they have access to plentiful sources. By providing birds with water for drinking and bathing can encourage a flurry of beautiful and interesting birds to your garden.
 
The Henry Bell Wild Bird Care Essential Collection - Three Arm and Four Arm Complete Feeding Stations and Heritage Collection - Four Arm and Four Arm Complete Feeding Stations each include a water bath alongside a range of feeders. The different types of Feeding Stations start from RRP: £16.99 for the Henry Bell Essential Collection Three Arm Feeding Station through to a premium, style statement with the Henry Bell Heritage Collection Four Arm Complete Feeding Station at RRP: £69.99.
 
At a time of year when it is important to help keep wild bird's water sources abundant, Henry Bell & Co, shares its top tips on best practice during the summer months.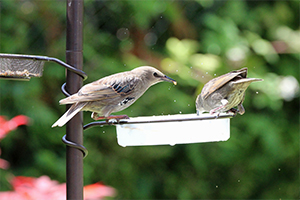 Quenching thirst: Although having no sweat glands, birds still lose a considerable amount of water. In fact, smaller birds such as Blue Tits and Robins, can drink up to twice a day to replace lost water. The Henry Bell Essential Water Drinker (RRP: £3.99) is easy to use and keep refreshed so that wild birds have a plentiful source of fresh water.
Keeping up appearances: Bathing is an essential routine for the preening and cleaning of birds' feathers. Through bathing, feathers can be kept free of dirt and parasites, ensuring the feathers remain healthy and strong.
Choosing the best location: Positioning is important as birds will be distracted whilst they rehydrate or pamper themselves. Birds should have good visibility whilst using water sources and have access to nearby bushes or trees to provide cover from predators. Water baths and trays can be used on feeders and can, importantly, be positioned high and away from vegetation where predators could be hiding.
Topping-up routines: During the heat of the summer, water can be hard to find. In the sun, it will evaporate quickly, so it is important to regularly check and top-up birdbaths, drinkers and water trays on a daily basis.
Keeping the water clean: If you have a variety of wild birds in your outdoor space, bird baths and drinkers will soon become shared spaces and can quickly become dirty. To keep the water fresh and devoid of algae and accumulated droppings, containers should be cleaned every couple of days. Use a scrub brush and diluted soapy water before rinsing thoroughly, and air-drying. Good to go!
DIY water source: The key here is choosing an appropriate bowl – one that is large and shallow (ideally maximum depth of about 10cm) with low sloping sides. All you need are a few bricks to raise the bowl to ensure it is positioned where birds will feel safe and unthreatened by lurking cats. For more  guidance, refer to the RSPB website.
 
Henry Bell & Co is a fourth-generation family-owned British business that has been producing high quality wild bird and animal foods for a number of years. The company launched its own range in 2019, Henry Bell Wild Bird Care, which features over 140 quality products catering for every type of garden bird, all designed with health and wellbeing of birds in mind. Henry Bell has made sustainable packaging a priority with all their Wild Bird Food packaging being 100% recyclable.
 
Henry Bell Wild Bird Care is available at Dobbies Garden Centres, Blue Diamond Garden Centres and selected independent garden centres, pet shops and retail outlets nationwide.

 
For more information, please visit www.henrybell.co.uk or contact PR Consultant
Katie Schuster on E: katieschustercomms@gmail.com | M: 07876 694 341
 
For sales enquiries, please contact National Sales Director, Paul Barker on
E: paul.barker@henrybell.co.uk | M:  07305 562 171