Monday, March 23, 2020 - 10:24
The Plant Finder team say garden centres are selling more online in COVID-19 crisis.
 
GARDEN centres are using upgraded website software that recommends not only plants to gardeners but also care products as sales of gardening goods soar in the wake of COVID-19.
 
Joy of Plants' Plant Finder plug-in has been added to 46 garden centre websites since it launched in 2018 including the Blue Diamond Group, Longacres, Barton Grange, Scotsdales and Perrywood.
 
Terri Jones, Managing Director of Joy of Plants in Twyford, says: "We're hearing from our clients that they are experiencing an uplift in trade, as gardeners, who are self-isolating or social distancing, are ordering from them and asking for their items to be delivered, so they can spend the Easter break in their gardens."
 
The new 2020 Plant Finder update, which also recommends Care Products for each plant, is already enabled on six garden centre websites* and is supported by all major care product suppliers including Evergreen, Westland, Vitax, Neudorff, Growth Technology and SBM Life Science.
 
"Gardening will be a lifesaver for so many people during these next few months. Some retailers have realised that home delivery and online sales will have to substitute for plant area visits and purchases.
 
"We're finding that our clients are boosting their sales via our searchable guide on their websites to the plants they sell, with all the details about each plant that a customer could require.
 
"This is making a huge difference to their orders. And more garden centres are doing this by adding the Joy of Plants Plant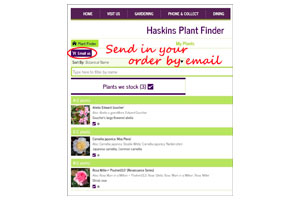 Finder to their website with a line of code, uploading their plant list into it and then would-be customers at home have all they need.
 
"We've heard that some business owners have experienced a surge in orders online over the last 10 days. Some are seeing 25% week-on-week increase in internet sales. Anyone who is not offering this service will be losing out on vital sales as the peak growing season starts and customers potentially keep away from stores amid fears concerning the Coronavirus."
 
Joy of Plants says garden centres can add its Plant Finder, including Care Product recommendations, to their website virtually overnight.
 
"The system lets users find plants they'd like that garden centres stock and includes an 'email us' feature for mail order of plants.
 
"It's a quick and easy way for garden centres to add home shopping to their websites: just add the code we supply to your website, upload your plant list so that Plant Finder knows which plants you stock, set up an email address, and we do the rest.
 
"And with our new Care Product Upgrade, each plant description ends with a recommendation for an appropriate care product or products, your choice of product/brand. So, as well as mentioning any pots, questions, etc in the note that comes with the email, they can also ask for the right care product or products to improve success.
A library of more than 14,300 plants and trees
 
Joy of Plants, which is a plant information company, created the Plant Finder plug-in for garden centres' websites and the Plant Finder Touchscreen Kiosk for plant areas, to ensure customers find plants they want that a garden centre sells and, also to assist staff with providing the right horticultural information.
 
The team at Joy of Plants has created a library of more than 14,300 UK house and garden plants and trees, and offers it via a platform of tools to help garden centres, retailers and growers maximise their plant sales in store and online.
The company has spent the past 25 years photographing and documenting plants to provide information in many forms including Bed Card printing, website plug-ins, Touchscreen Kiosks, and an image and text library for populating e-commerce sites.
 
For further details about Joy of Plants, please call 07717 532 323, visit www.joyofplants.com, follow the company on Twitter at @JoyofPlants or on LinkedIn via www.linkedin.com/company/joy-of-plants.