Thursday, July 8, 2021 - 11:33
Christmas 2021 provides an opportunity for garden retailers to make up for losses sustained in the pandemic. With national Covid restrictions easing, this festive season promises to be a brighter one than 2020. And for customers, buying a real Christmas tree is all part of the experience. 
Here, we speak to the British Christmas Tree Growers' Association (BCTGA) about its work in promoting British-grown trees. And we hear from some of the Association's members who offer their insight into being part of an industry that's growing – in more ways than one.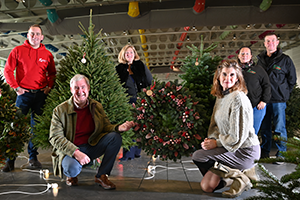 Making the most of your Christmas offering 
Families actively look for great festive experiences in the run-up to Christmas and going out and selecting a tree is the start of the seasonal magic for many. 
Real Christmas trees are becoming more popular year-on-year. By the end of November 2020, growers reported selling 24% more than at the same time in 2019.
And the stockists on the list produced by the BCTGA were all but sold out four weeks before the big day last year.
And it's little wonder – coupled with a hot chocolate for the kids, mulled wine for the parents and a plethora of decorations, attractions and gifts, garden centres offer the ideal product and destination experience. 
Christmas has always been the perfect marketing opportunity for garden centres – so make sure you have enough trees on order this year to avoid turning customers away.
Why stock British trees?
To ensure your customers recommend your Christmas selection to their friends, it is wise to stock Christmas trees grown by members of the BCTGA. They are of a better quality and are more environmentally-friendly that trees imported from overseas.  
Another reason to stock homegrown trees is that the "buy British" ethos has seen a resurgence as customers choose local over imported. There is more understanding that locally bought Christmas trees are fresher than their imported counterparts and therefore will last longer.  
Consumers are far more interested about the environment and there is increasing understanding that real trees, grown and bought locally have a lower carbon footprint than artificial trees. According to the Carbon Trust, a real Christmas tree has a "much lower" carbon footprint than an artificial tree, particularly if it is disposed of thoughtfully.  They state that a natural 2 metre Christmas tree without roots, disposed of into landfill generates a carbon footprint of around 16kg of CO2. If the same sized tree was chipped to spread on a garden it will have a carbon footprint of around 3.5kg of CO2 – an impressive four and a half times less carbon footprint.
Unlike artificial trees, a real Christmas tree naturally absorbs CO2 and releases oxygen and the Soil Association highlights how a real tree provides a habitat for wildlife and captures carbon from the atmosphere during the 10-12 years they take to grow.
Real UK grown Christmas trees are truly the greenest choice.
Buying from a BCTGA member means you get the best
The BCTGA is dedicated to representing and actively supporting growers, whilst championing naturally beautiful British Christmas trees. With over 320 members the Association is the voice of the industry.
The aims of the BCTGA are to:-
Promote the benefits and sales of quality British Christmas trees
Provide relevant and timely information to growers
Encourage the exchange of ideas and information
Provide a logo which is a 'kite mark' giving consumers confidence that they have bought a quality Christmas tree.
Include every quality grower of UK Christmas trees and offer a supportive community.
A BCTGA spokesperson said: "Covid-19 created many challenges for our members and the BCTGA worked to support them preparing risk assessments and changes to make their operations Covid secure.  
"It was a worrying time particularly when the second lockdown happened in November and Christmas trees were not classed as essential shopping; with the amazing help of Richard Underwood and his MP Alberto Costa, Christmas trees were re-classed as essential and our members could trade."
Usually the BCTGA's Competition Day takes place in October, with members coming together from all over the UK. Last year, members had their trees delivered instead and Stuart Kirkup of Dartmoor Christmas Trees, the 2019 winner, chose the winner – ably assisted by the Yorkshire Shepherdess Amanda Owen and Peter Wright from the Yorkshire Vet. 
Online training sessions have also boosted members' business practice and the BCTGA is looking forward to holding an open day in July for members at Cadeby Tree Trust. Competition Day in October will be held at Malrdon Christmas Tree Farm in Devon this year.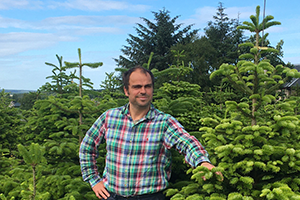 The faces behind the UK Christmas tree market
• Scottish supremes
Dietrich Pannwitz from Sylvestrus, based in Inverness, told us about what led him into the Christmas tree industry: "I came to the UK in 1991 from a small place called Berlin and, after some farming, ending up in forestry with a degree achieved in 1997. 
"Ever since than I have been involved in Xmas trees as part of our forestry portfolio; initially contracting, cutting Xmas trees from forestry plantations in the most northly places of the UK, loading lorries by hand in gales and sideways wind and darkness – and renting other people's land and trying to grow lots of species. 
"Since 2010 we have owned our own bit of land just outside Inverness and grow mostly Nordmann Fir. As we are forest managers we have access to large (50ft+) Xmas trees.
"About three years ago we started retailing and this has been a great success!
"Retail was better than ever in 2020, people were buying bigger and more expensive trees to make a really special Xmas. Wholesale was mixed with one cancellation of order to England."
Dietrich said this year's growing season was going well and the wet weather in May and June helped as it extended the tree-planting window.
Another helping hand which has been appreciated over the years is Sylvestrus's BCTGA membership, as Dietrich says independent forestry expert Colin Palmer's advice is "next to none" and "superb"! He adds: "What would be do without his knowledge?"
Although he's missing the Christmas tree farm meetings, Dietrich is looking forward to another successful Christmas. He says: "Hopefully we can maintain our customer numbers from last year in the retailing and sell more larger trees into wholesale."
• Incredible English 
Meanwhile, Cadeby Tree Trust in Warwickshire has been selling Christmas trees since the early 1980s and grows its own trees on 600 acres throughout the UK. 
Tom Theobald from the company says: "With over 36 years' experience, we have built up a reputation as being England's leading grower. We operate throughout the UK, with plantations in most regions, to reduce our carbon footprint. We have a wealth of experience in all the latest growing techniques and we comply to a strict code of practice to ensure the best environment and sustainable operation. 
"We also offer contracting services for other growers, enabling us to share those expertise and growing techniques. We grow Nordmann, Norway Spruce, Blue Spruce and Fraser Fir in cut and pot grown and also Lodge Pole Pine in cut."
Tom said Cadeby had no ill effects from the wet May, and simply rotated tasks in the wet weather. He adds: "We finished all the pruning whilst it was so wet. April and May were also colder than usual which meant the trees flushed two weeks later than in 2020. This is a good thing – it avoids frost damage and leads to a shorter growing season with less excessive growth. Ultimately, this creates more premium-quality UK-grown trees."
Like many other growers, Cadeby had a boost in sales in 2020 – their books were up 20% – and the fact that the restrictions were lifted in time for December helped sales. Tom added: "There were obviously some nerves with some of our customers in terms of potential lockdowns but we are a very reactive company and we could accommodate the last-minute rush!"
The BCTGA has helped the company "immensely" and Tom says its clear channel of communication both internally in the industry and also to the public has helped spread positive messages about real Christmas trees.
And plans for Christmas 2021? "We have invested in more machinery both for harvest and plantation management. The planning is key for any season and we spend a lot of time making sure we are prepared for the increasing number of trees we harvest each year.  
"We are looking forward to another successful year in 2021, in terms of both tree quality and sales."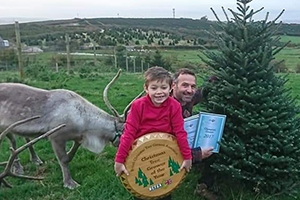 • Welsh wonders
Over in Wales, just outside Swansea, Gower fresh trees is located on the Gower Peninsula. The owner, Robert Morgan, is a fifth-generation farmer who diversified in 1997 to growing fir trees, after seeing a gap in the market as many trees then were imported and of a poor quality.
With much persuasion from his late father David to get a field growing, he planted 5,000 – only for the trees to be over-fertilised and eaten by rabbits.
But 24 years later, Robert is growing award-winning Fraser , Nordmann, Korean and Noble firs, currently around 400,000 trees.
Robert sold all his 2,000 sheep, 200 cattle and he even had to sell the sheepdog. The animals were replaced with 40 reindeer and he built a magical indoor winter wonderland –once used as a barn for the sheep to give birth.
Robert said: "The ethos is very much on home-grown, quality Christmas trees. Last year highlighted that choosing the tree is an experience for the whole family. Here, they can wander the 'pick your own' fields and choose a tree, see Santa and his reindeer, visit the cafe and make a day of it."
Robert also grows pumpkins, sunflowers and lavender where the fields become an attraction for families. 
He added: "Last year was very hard due to Covid as we had to limit numbers, but everyone very grateful to be able to escape to our farm. 
"Sales were strong – but very hard work with all the rules and regulations. We had to close the last week prior to Christmas so had thousands of pounds of winter wonderlannd bookings to refund due to the restrictions.
"But this year is set to be busiest yet, with strong call for quality fresh, homegrown trees and the added uncertainty of imports.
"This year's crop looks the best yet, we specialise in growing the Fraser fir. With it being the best in needle retention, and smell, it's now becoming the UK's most popular tree."
The BCTGA has been "great since day one of joining" for Gower, and Robert says he has made many friends and learned so much from the Association's open days – especially where hosts were willing to show what they have to offer and the practices that have worked for them. 
Also a highlight for Gower was winning Champion Grower in 2014, when Robert and his son got to meet the Prime Minister and they saw their tree take pride of place outside Downing Street. Truly the best Christmas present ever for this hard-working family business!
See www.bctga.co.uk for more information to support your real Christmas tree marketing this year, and to find a list of stockists.