Tuesday, March 9, 2021 - 09:42
BY LEADING WILD BIRD FOOD MANUFACTURER, HENRY BELL & CO 
In preparation for the arrival of spring, wild birds start nesting early in the year. Due to climate change, nesting is starting earlier than usual when the winter ground is still hard and natural food can be scarce. So, it is essential to support the wild birds by feeding them nourishing food for their egg development and to ensure young birds receive the right nourishment to grow. Henry Bell (www.henrybell.co.uk), shares their top tips on what to feed wild birds and their young during this time.
 
Henry Bell & Co is a fourth-generation family-owned British business that has been producing high quality wild bird and animal foods for a number of years. The Company launched its own range in 2019, Henry Bell Wild Bird Care, which features over 140 quality products catering for every type of garden bird, all designed with health and wellbeing of birds in mind. Henry Bell has made sustainable packaging a priority with all their Wild Bird Food packaging being 100% recyclable.
 
Henry Bell's top tips on the right types of bird food for this time of year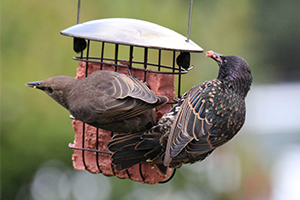 By Tony Clare, Commercial Director of Henry Bell Wild Bird Care
 
1. Nutrient-rich food: Calcium boosting food is essential to help with egg development and will therefore be welcomed by wild birds. Rich in nutrients, suet is a great way to meet the dietary and health requirements of birds. Suet Bites are a great option as they are highly nourishing and energy rich and can be enjoyed by a range of wild birds of all sizes, but mostly appreciated by the small birds as they will find them easier to eat.
 
Henry Bell offers Berry or Mealworm Suet Bites in a variety of pack sizes. These can be used in wild bird feeders, on bird tables and ground feeding. Prices start from RRP £3.99 for 500g up to £9.99 for 2kg. Henry Bell also offers Superior Suet Bites, Suet Cakes and Superior Suet Cakes, and Suet Rolls.
 
2. High-protein food: Energy-packed foods such as Mealworms are essential for birds caring for their young during the cold snaps of winter and hard ground causing food shortages. Mealworms are a very popular and nutritious protein snack, loved by most garden birds, especially Robins. A year round treat, this rich protein source is beneficial in the winter for survival and in springtime to help the parent birds in caring for their young.
 
Henry Bell offers Mealworm in 100g (RRP £3.99), 500g (RRP £9.99) and 1kg (RRP £19.99). Mealworms can be enjoyed from the ground, the bird table or bird feeder all year round.
3. Extra-energy punching foods: As small birds have a large surface area and comparably small volume; they lose heat quickly and must eat a lot of food to replace the energy lost. All this to consider whilst preparing their nests for their young. Our Superior Seed Mix is a unique blend that is packed with energy and nutrition to keep your wild birds fuelled up no matter the season.
 
Henry Bell has a variety of seed mixes, including a Superior Seed Mix (RRP £1.99 for 1kg – £9.99 for 12.55kg). The seed blend attracts a wide variety of wild birds and makes a perfect feed partner to keep wild birds happy and healthy. Suitable for use in seed feeders, on bird tables and ground feeding.
 
Henry Bell Wild Bird Care is available at Dobbies Garden Centres, Blue Diamond Garden Centres and selected independent garden centres, pet shops and retail outlets nationwide.
For sales enquiries, please contact National Sales Director, Paul Barker on