Monday, January 18, 2021 - 09:26
Searches for 'indoor plants', 'best plants to keep indoors' and 'easy houseplants' have all spiked since the start of the pandemic, and there has been a 402% rise in the number of people searching for Chinese Money Plants over the past few years.
Originating from Southwest China, The Chinese Money Plant - or Pilea Peperomioides - is a perfect home office addition, said to bring good luck, money, prosperity and hope to the owner.
The research, from homeware retailer Sass & Belle, also shows the growing popularity of plants including Aglaonema (+340%), Peperomia (+317%) and ZZ Plant (+313%) over the last five years, with notable increase in searches when comparing 2020 to 2019.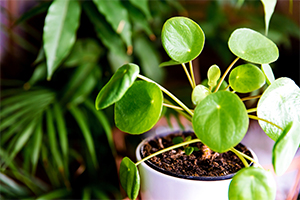 Sass & Belle founder Richard Stone said: "With lockdown limiting so much of what we can do, people are looking for ways to bring the outdoors inside, or give their homes a makeover. Indoor plants can help to achieve both of these things; the plants themselves help us to get closer to nature, while plant pots can offer us a splash of colour and vibrancy to any room. 
"The mental health benefits of houseplants are well-documented; they create a sense of calm which is so needed during this time of uncertainty. And with many of us working from home, we're looking for decor and accessories to add to our new desks - something like the Chinese Money Plant is perfect for that."
The top 10 most popular houseplants were as follows:
Chinese Money Plant
Aglaonema
Peperomia
ZZ Plant
Philodendron
Calathea
Ponytail Palm
Schefflera
Dragon Tree
Dieffenbachia
Samantha Sethi runs her jewellery business CraftyLittleKoala from her home in Birmingham. She has more than 150 houseplants in her collection - 100 of which have been added during lockdown.
She said: "I am not surprised to hear lots of people have searched for houseplants since lockdown began because there is a lot of research into how beneficial plants can be for your mental health. And with the current situation, mental health issues are becoming more prevalent, so I expect more houseplants will be purchased.
"I love plants because they add an extra element to your home. You get such satisfaction from watching them grow and bloom, especially when you put a lot of effort into taking care of them. While I do have a Chinese Money Plant, I'd have to say Cacti are my favourite mainly because they are the easiest to look after. When they bloom they are stunning. Monstera plants - also known as the Swiss Cheese Plant - are also beautiful and come in many variations."
Integrative therapist Abbey Robb added: "Being surrounded by plants actually reduces our stress levels; research has shown that when we can see green all around us our cortisol levels (which is a stress hormone) drop and our breathing naturally becomes deeper and slower. Being in nature and tending to plants also brings us very much into the present moment, we stop ruminating about what's happened or worrying about what's ahead, we tend to become absorbed in enjoying the greenery around us.
"Having plants also gives us something to look after and nurture. The sight of a plant starting to sprout a new leaf or a flower is something that brings joy to almost everyone. Nursing a plant back from being neglected gives you a warm glow of satisfaction every time you look at it - it's the ultimate way to remind yourself that your actions matter!"
While there are over 8.5 million #plantsofinstagram posts on Instagram, one survey found that nearly half of millennials don't own house plants because they don't know how to take care of them.