Monday, February 8, 2021 - 10:41
After a successful first year, the brand and chartered horticulturalist will have a focus on Chelsea Flower Show and charity scheme, Cultivation Street
 
After a hugely successful first year, leading garden care brand Evergreen Garden Care (www.lovethegarden.com), has announced that it will continue working with Chartered Horticulturalist and TV Gardener, David Domoney.
 
One of the key calendar events this year will be the Chelsea Flower Show, where Evergreen Garden Care's leading brand Miracle-Gro will sponsor David's major exhibit, entitled 'My Houseplant Changed My Life' inspired from his new Book published by DK. With the recent news of Chelsea Flower Show being rescheduled from May to 25th September 2021, Miracle-Gro and David Domoney are pleased to confirm their continued support of the RHS event.
 
The exciting exhibit looks at the symbiotic relationship between humans and plants inside the home, and the benefits of keeping those plants healthy. It will visualise the positive role that indoor plants have on our physical and mental wellbeing, which is particularly topical as many people have been home-schooling and working from home since the first lockdown in March 2020.
 
In the first year of their partnership and during the initial months of lockdown, Miracle-Gro and David Domoney launched a Facebook Live Series, Grow Your Own At Home. David was on hand to share his experience and garden care advice, plus answer viewers' questions, especially those new gardeners who were beginning to enter the category.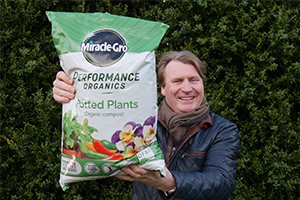 In addition to this, Miracle-Gro sponsored David's charity initiative, Cultivation Street in association with the Daily Mirror, as well as working together for television and PR opportunities. Now in its 8th year, the scheme shared moving stories about how children, communities and individuals suffering with poor health used gardening to get through a very turbulent period.
 
David Domoney comments, "I am delighted to be working with Evergreen Garden Care again during 2021 as brand ambassador to help grow more enjoyment for gardeners. Working together to create 'My Houseplant Changed My Life' for Chelsea Flower Show is a very momentous development in our partnership. Under the current circumstances, the management team at the RHS have made the right decision by moving the date to a hopefully safer situation. It gives confidence to both visitors and exhibitors who love and support this very special event.
 
"Cultivation Street is very close to my heart; it's an important scheme that encourages communities and schools to work together and share the positive power of plants and nature. Cultivation Street Garden Centre Ambassadors are integral to helping make Cultivation Street what it is today, and we thank them all for their ongoing support and kindness shown to their local communities and schools."
 
Mark Portman, Managing Director of UK & Ireland at Evergreen Garden Care also comments, "We've loved having David as part of the wider Evergreen Garden Care team during 2020 and are looking forward to working with him again. We know that this is a difficult time for many, and we recognise this change in date to September for the historic Chelsea Flower Show will pose a challenge to many growers.
 
"However, we see that September will be an opportunity to showcase the incredible floral displays that can be seen in the Autumn, and we are proud to support the RHS in working to ensure the show can still go ahead this year."

 
To find out more, visit www.evergreentrade.com
Issued on behalf of Evergreen Garden Care by Wild Card
 
For more information, contact Claudia Barnett / Emma Videan
T: 0207 257 6470
E: evergreengarden@wildcard.co.uk