Tuesday, January 12, 2021 - 09:41
Carpe Lumen photography offers a large range of greetings cards and prints from a substantial portfolio which means that as well as standard ranges we can offer bespoke cards for clients; where your organisation has a number of outlets, we can offer exclusivity on images. We can also shoot requests; if you have your own ideas you would like us to develop, we can do our best to create those designs. 
With all photography by Ed Crispin, the range is coherent but hugely varied. Ed has been a photographer for over twenty years, selling prints throughout that time and working in a variety of disciplines from portraiture, weddings and garden parties at Buckingham Palace to classic landscapes and garden photography; but always building a portfolio of images for cards.
The cards cover a range of genres including landscapes, nature, gardens, travel and a category called amuse-yeux. This last group includes interesting, fun, often quirky images that resonate with customers but cannot be easily labelled. Looking for a unifying moniker made us think of a chef's amuse-bouche – a tasty trademark morsel served for simple culinary pleasure and flavour. We think these images are the visual equivalent, hence amuse-yeux.
Along his photographic path Ed has been commissioned to photograph a number of impressive gardens over the course of a year, capturing the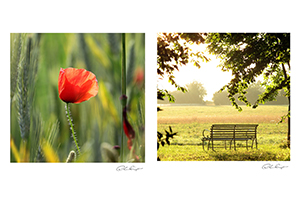 forms, colours, textures and essence of the gardens through the seasons and the varying light. He has, along the way, built a collection of garden images now making their way onto cards. As well as the garden photography – a natural fit for buyers of this magazine, many of the other ranges will appeal. Classic landscapes come from all over the UK, travel covers habitually popular locations or embodies the essence of expectation of a place. Many of the nature photographs including wildlife and forest scenes offer calming, evocative greetings that resonate with many customers for many occasions. 
Our printing is carried out by one of the most respected printing companies in the UK. Johnsons is a family owned business based in Cheshire, operating since 1827. They use latest generation carbon-neutral printers, print on sustainable materials, and have a reputation for incredibly high standards of printing. Used by many photographers and artists around the UK, the print quality and art-level card stock enhance the imagery. A further advantage is the ability to create short runs meaning bespoke designs can be printed and we can customise the back of the cards with your group logo, information and (bar)codes. 
We aim to grow partnerships, forging relationships, both creative and trading and hope you will be in touch to discuss your requirements. Call Ed on 07305 045593 or email carpelumenphotos@gmail.com. Alternatively just visit our website carpelumen.co.uk to see the current range.