Thursday, March 29, 2018 - 09:04
Husqvarna's robotic lawnmower Automower is due to launch with Alexa compatibility in September 2018. Garden Trade Specialist magazine editor Victoria Galligan was invited to the launch, and discovered a whole new world of automatic gardening products with an exciting future...
The British, it seems, don't really trust robots. We're not alone – the Swedes and Finnish aren't convinced either. But in countries such as America and Germany, where robotic vacuums have taken off over the past few years, mowing the lawn is no longer a job left for Dad on Sundays. It's done daily, quietly, and with amazing results – with no damage to the lawns, no weeds and no moss.
How is this possible? Husqvarna (the Swedish brand which started off in the 1600s making shotguns, and today also sells under the brands Flymo, Gardena, Weed Eater and McCulloch among others) launched its first robotic lawnmower 23 years ago. But things didn't exactly take off. In fact, representatives from the company admitted that Husqvarna almost gave up for good on producing the automatic models before deciding instead to reinvest, address the issues – and get creative. Its policy now is all about aiming for "zero": zero stops during mowing, zero accidents, zero emissions and zero lawns which it can't tackle.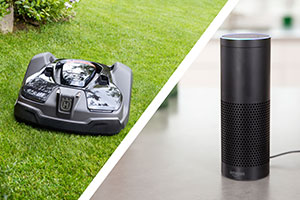 Husqvarna gathered press from around the world at its plant in County Durham (the Swedish bosses decided to move production for their robotic models when they saw how efficient large-scale plastic manufacturing was in the UK) to announce the launch of its latest innovation in technology – connecting its high-speed, ultra-silent Automower model to Alexa. So not only can you use your Husqvarna app "Automower Connect" to control your robotic lawnmower remotely, but from September 1, users will be able to tell Alexa through their home hubs to "start Automower now", or ask "What is my Automower doing?" 
At the beginning of the press launch, there were many questions in my mind. The main one being: how is the Automower powered? The answer is simple: it has an outdoor charging dock, which it finds by itself when the battery is running low, docks and charges until ready to out again. My second question was answered quickly: how does the Automower find its way around your garden? Thanks to a perimeter cable, which goes around the edge of your garden as well as large fixed objects like ponds, flower beds and trees, the Automower can navigate around your lawn in a random fashion to give a smooth, carpet-like finish. And for those thinking of the ugly, raised cables this will result in: fear not. If pegged flat to the ground, the grass soon covers the cable and more particular horticulturists can ask a Husqvarna dealer to come and lay it underneath the soil with their specialist equipment.
Weeds are no match for daily mowing
So how about the weeds? Well, given the fact that the Automower goes out daily to keep the grass at a level which you decide, the weeds are literally cut off in their prime. They don't get a chance to grow. And the moss? The pressure of the wheels, the constant cutting and the short clippings which are produced and act as mini-mulching heroes means the moss is eliminated too.
Not convinced yet? Perhaps you're concerned about users who have particularly large lawns or steep slopes in their gardens. Husqvarna have dealt with that: their machines can tackle steep slopes of up to 24º (45%), with some models covering lawns of up to 5000m2and an area capacity of up to 208 m2 an hour. If the Automower does get into a scraper and encounters a slope which is too steep for it, it will, after a little exploring, retreat from the area to avoid getting stuck. Depending on the model, a fleet service can be run where, via the cloud, operators have a complete overview of multiple models as well as full remote control from one unified system. An unlimited number of models can be added to the fleet, so there really are very few green spaces which cannot be mowed.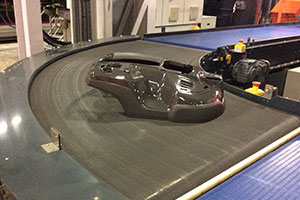 Another obvious concern of users will be about accidents: if the blade comes into contact with a stone, animal, foot or finger, what will happen? Faced with a gang of sceptical journalists, Patrik Jägenstedt – who as director of primary development, concept and features at Husqvarna Group has worked on the development of the Automower for years – got out three props: a stuffed hedgehog, a wooden foot and a model of a hand. He showed how the casing of the Automower has been designed to a specific size, so that hands, feet and even small animals won't come into contact with the blade without lifting the lawnmower – which triggers an emergency stop. Wildlife rangers at one park where the mower was being rolled out were so concerned about newts and toads coming a cropper, that Husqvarna added a special brush around the edge of the casing to sweep the creatures away.
Environmentalists will also be impressed with the zero-emissions policy of Husqvarna: compared to petrol-powered mowers – especially ride-ons in larger lawned areas – the robotic models are much more environmentally friendly. A solar-powered hub for the Automower is also being developed, which will further reduce the energy consumption from fossil fuels. The set of pivoting blades are also ingenious. There is less energy required to run the blades as they are so light – weighing less than 10g as opposed to a heavier fixed blade used in traditional machines. The rectangular-shaped blades fold away when they come into contact with a hard object, reducing the risk of breakage. And to top off the features of the pivoting blades, they leave a clear cut and reduce the tearing of grass as caused by fixed blades, which can result in brown, frayed edges.
Emissions also include noise, and Husqvarna have thought of that, too. Thanks to being so lightweight, powered electrically and with its clever, lighter pivoting blades, noise is minimal. I would liken it to hearing a car drive past the garden at night, in a quiet area, with the bedroom windows shut. Yes, you can hear it and it's not completely silent (around 56 dB A to be exact on the 440 model) but no, it won't disturb a sleeping beauty.
Nice idea. But does it work in practice?
So this is it. The robotic lawnmower is becoming a reality. Since 2012, the market share has increased from around 10% to over 20% of lawnmower category sales. Not only have Husqvarna delivered a reliable model which can be used in gardens, parks, schools and even cemeteries, but they have carried out a test at public green spaces in Edinburgh, Almere in the Netherlands and Aalborg in Denmark. On the 500 series, Olle Markusson, director of product management in robotics, says, "Our objective is to allow landscaping teams to work smarter. With the management system, one person can manage all the mowers in their fleet at one time, and still have time for other tasks."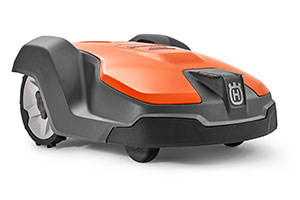 The feedback from the users was startling, with Gareth Edwards, Cemeteries Team Leader in Edinburgh, saying, "I was surprised they (the Automowers) did so well. I was optimistic at the start and saw the potential but had reservations around if they would cope, if they would be vandalised or stolen. Very surprised at how little interference the mowers got and surprised at the high standard they achieved." Gareth reported that using the previous method of mowing, he spent 78 minutes on prep – including service, transport and aftercare of his traditional mower – plus 60 minutes mowing. So to cut down the man power to almost zero freed up staff to carry out other work.
Also in Edinburgh, at the Princes Street Gardens and The Mound site, the Automower had to tackle steep inclines and thousands of tourists in the area on a daily basis. David Forward, botanical services team leader there, agreed the robotic mowers enabled operators to spend more time on other tasks, like "hand weeding, dead heading roses and cultivation of flower beds". He added that the mowers are much lighter than traditional cutting equipment, reducing the need to lift and push up and down steep areas.
The video below shows the mower working in a steep family garden, and a quick search on YouTube throws up dozens of clips posted by enthusiastic users, including reviews and how-to guides – one video has had nearly 85,000 views. 
It's mowing, Jim, but not as we know it...
Not content with producing Alexa-controlled models and fleet services, Husqvarna revealed at the launch that they have been working on an even more technologically advance concept: lawnmowers transported around cities by drone. The Solea concept model is only in the planning stages but could be a reality in parks and even rooftops gardens by 2030. The drone will carry and control nine mini Automowers, which are flown into a green space, do their stuff then return to the drone for their next mission. 
"Husqvarna Solea demonstrates our commitment to explore new ways of enabling cities to become greener and helping landscapers save time," says Pavel Hajman, Senior Vice President of Group Digital, Operations & Technology Development. "Driving and witnessing the development of robotic mowers for more than 20 years, we foresee that robotic mowers will be a key player in professional landscaping teams in years to come."
The space-age video showed animations of the concept mower flying from skyscraper to skyscraper, and park to par. The scenes were, admittedly, reminiscent of the Jetsons or some other space-aged fantasy. But it's clear that when Husqvarna designers put their mind to it, fantasy can become a reality.
Automower Pricing (RRP including VAT)
Husqvarna Automower 105 - priced from £1000
The smallest model in the collection can cope with gentle slopes up to 14º (25%), and will spend around two hours per day cutting. It covers lawns up to 600m2 and is ideal for residential properties. It can mow for 65 minutes, and takes 50 minutes to recharge.
The Husqvarna Automower® 310 - priced from £1400
This larger model only needs to spend 1 hour cutting and covers up to 1000m². It has automatic passage handling, allowing it to navigate through small gaps in the garden, and a unique cutting system. It can cut on 22º (40%) slopes and can mow for up to 70 minutes before it needs to recharge. Also available in the 300 series: Automower 315 – 1500m² (£1700) and Automower 315X – 1600m² – Automower Connect, GPS assisted navigation, X-Line design (£2100).
The Husqvarna Automower® 430X  - priced from £2600
Large size robotic mower with generous in-built competence. Equipped with GPS navigation for efficient mowing of the most various, demanding grass areas. Suitable for larger areas up to 3200m² and can handle steep slopes with an incline of as much as 45%. Smart technology adapts the amount of mowing to the lawn's growth rate, enables spot mowing of a limited area of longer grass and guides the mower through narrow passages. The intuitive menu on the large, user-friendly display allows personal settings for when you'd like the machine to mow. Polar white colour and headlights are available as options. Also available in the 400 series: Automower 450X, 5000m² with Automower Connect, GPS assisted navigation and X-Line design (£3200).
Husqvarna Automower® 520 - priced from £2600
The Husqvarna Automower® 520 is optimized for lawns with a capacity of up to 2200m², and can handle slopes of up to 24º (45%). It is connectivity enabled in the form of Husqvarna Fleet Services through cellular networks, and also has Bluetooth capabilities. A rubber bumper provides protection, and the terrain wheel kit further improves terrain and slope performance.
Husqvarna Automower® 550 - priced from £3800
The Husqvarna Automower® 550 is optimized for lawns with a capacity of up to 5000m2, more than twice the capacity of Automower® 520, and can handle slopes of up to 24º (45%). It is connectivity enabled in the form of Husqvarna Fleet Services through cellular networks, and also has Bluetooth capabilities. Automower® 550 has a faster ground speed than Automower® 520 due to remote object detection, since ultrasonic sensors located at the front of the mower can slow down or stop the mower before impact. The charging station includes a stop button, which will automatically summon the robotic mower back to its station.