Thursday, May 30, 2019 - 14:58
Modern gazebos from Forest Garden open up entirely new opportunities for outdoor entertaining and will extend the summer season for owners.
Forest Garden is the UK's leading manufacturer of timber garden products and buildings. Its gazebos combine top quality construction with good looks and an affordable price so Gazebo Living 2019 is open to everyone with a garden and a good imagination. The rounded timber used to create the Gazebos has an attractive smooth sanded surface, providing a natural finish that will enhance any garden.
The possibilities of different uses for a Forest Garden gazebo are endless and include children's play areas, the al fresco office or meeting room and, of course, outdoor dining or simply relaxing.
Family Parties or Alfresco Dinners
Garden owners looking for one that will suit any garden size should consider the Hexagonal Garden Gazebo. Available in four size options, 3m, 3.6m, 4m and 4.7m, each creates a cosy feel thanks to its shape. They are all available either furnished or unfurnished.
The furnished ready-to-party format has five bench seats, custom made to fit the shape perfectly, matching seat cushions in a choice of three colours and a specifically designed hexagonal table. Depending on the size you choose, the Gazebo is perfect for seating from 10 to 19 people!
In its unfurnished format the flexible space is ideal for bean bags or informal seating. Its spacious layout allows children to enjoy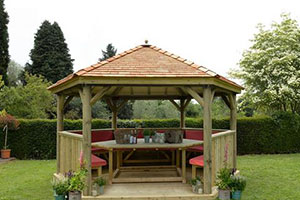 themselves and also for adults to sit and relax in the garden. 
There is a choice of three roof types, either Traditional Timber, Thatch or New England Cedar, offering a style to suit all tastes.
Whatever size garden, there is a gazebo to suit - and it will be party time throughout the summer.
Hot Tub or Dining Area
Garden owners with outdoor hot tubs looking for a classic and beautiful structure to style around it should consider the Forest Garden Square Gazebo.
Designed with a traditional feel in mind, this eye-catching structure is guaranteed to become a focal point in the garden. Each gazebo within the range is available with or without a base, giving customers added flexibility.
All gazebos from Forest Garden can be customised with drop-down curtains and these are available as a set of four and in a choice of three colours; green, terracotta or cream. Each one is made from high-quality outdoor marine canvas, which is water repellent and fade resistant. When choosing this option, hot tub owners can instantly sit back and relax as they will have a complete ready-to-enjoy space instantly – regardless of the weather.
Available as a 3.5m square, the design also makes it perfect to fit several tables inside to host large dinner parties on long, hot summer evenings.
There is a choice of two roof types for this gazebo, either Traditional Timber or New England Cedar.
Nicola Simpson, marketing director for Forest Garden, said: "All of our beautiful gazebos are hand made to order at our factory in rural Worcestershire. They have a lead time of between four to six weeks so don't wait for another summer to pass you by – now's the perfect time to be thinking of your dream gazebo!"
All Forest Garden products can be viewed online on its new website www.forestgarden.co.uk   Products are available at many online retailers or nationwide from high street DIY stores, garden centres or builders merchants. See the Forest website for a stockist list, product information and a wide range of helpful tips and videos. You can follow Forest Garden on its social media channels by searching for @ForestGarden