Wednesday, November 7, 2018 - 09:48
With summer a distant memory and the winter frost arriving, it's time to prepare the garden for the changing elements.
But new research reveals that as the colder month's set in, Brits are forgetting to pack up their garden furniture and fittings, and families are consequently facing an average bill of £100 to replace their damaged outdoor equipment.*
So for peace of mind, Keter offers a range of outdoor storage to keep garden tools, equipment, furniture and games in tip-top condition until the warmer weather returns.
Keep up to 1200L of contents dry with the UK's No.1 selling garden storage item, the fully weather-resistant Store-It-Out MAX. With an easy opening roof, the facility to install shelves and a secure locking system, your garden is left looking mess free as your tools take up a new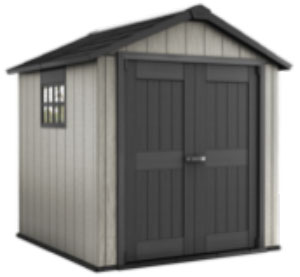 residence
Shed some light With the Oakland 759 shed's full-length skylight and Victorian-style window, your tools will glisten in the winter light whilst remaining frost-free thanks to a robust roof and steel enforced walls. As well as creating a sturdy structure, the Oakland's DUOTECH™ walls boast a weathered wooden texture and are easy to paint, meaning your custom coloured shed can stand proudly in the garden
As with all of Keter's sheds, the Oakland is easy to build with standard household tools and minimum DIY knowledge. The range, with more sizes available to fit every outdoor space, comes with a manufacturer's lifetime warranty for ultimate peace of mind.
Take a seat From Keter's wide range of Garden Boxes comes the Borneo. Storing 416L of gardening equipment whilst also comfortably seating two adults, the Borneo assembles in minutes and comes in a ratt-n-look finish. Its weather-resistant build ensures contents are kept dry and ventilated, making it the ideal practical addition to any property.
The Lion, the Witch and the Outdoor Wardrobe. If you can expertly keep a wardrobe in check but are daunted by the prospect of a garden clear up, The rattan effect Garden Utility Shed is your solution for extending a neat living space into the garden. The weather-resistant cabinet is lockable, low maintenance and comes with a shelf which holds up to 25kg (55lbs) of weight. Plus, it is fade free so stays stylish all year round.
"Whether you've got green fingers or not, keeping your gardening equipment and furniture under cover and secure during the colder months is essential in prolonging its quality and usability," said Kerry Murfin, from Keter. "Taking part in a seasonal garden tidy up means toys and tools can be enjoyed again next year.
For more information on Keter and to view a full range of storage solutions, please visit: www.keter.com.
*Keter survey August 2018&