Cobra launches Mow For Your Mind campaign, and pledges 10% of sales to Mind
Thursday, May 5, 2022 - 17:04
Leading lawnmower manufacturer, Cobra, has launched its Mow For Your Mind campaign, in support of mental health charity, Mind.
As part of this and the brand's commitment to helping mental health causes, Cobra is donating 10% of the total sales of one of its most popular models between 4th and 15th May to mental charity, Mind. The award-winning MX3440V cordless lawnmower has been chosen as the 'Mow For Your Mind' mower, to help gardeners enhance mindfulness while mowing the lawn.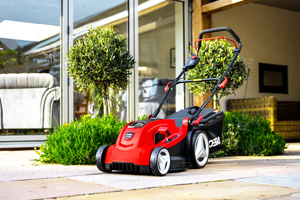 Managing director of Cobra said: "One in four people will experience mental health problems, which really is quite shocking. However, it's been proven that gardening and spending time outdoors can significantly help boost mental health and aid wellbeing. As one of the biggest names in garden machinery in the UK, we feel it is our duty to help and to support Mind with the amazing work that it does. As well as the financial support we're pledging from the sales of our Mow For Your Mind mower throughout Mental Health Awareness Week in May, we're also actively encouraging gardeners to take time to enjoy the wider benefits of gardening and mowing the lawn, such as how it gives you chance to take time out from the busyness of modern life, reduces stress levels, improves mood and even gives a better night's sleep!"
Cobra dealers are encouraged to help promote the campaign to boost donations to the charity, and are being supported by Cobra with showroom POS, swing tickets and totem poles being provided to aid promotion to customers.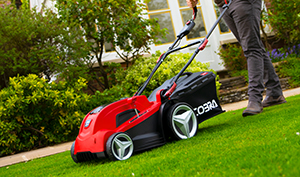 The MX3440V cordless 40V lawnmower, which has been selected as the "Mow For Your Mind" mower for 2022, retails at £232.99. It offers five cutting heights ranging between 25mm and 75mm, easily allowing adjustment throughout the year to provide for healthy grass during every season. With a 34cm/13" cutting width, it is ideal for small to medium gardens, and offers compact storage too.
The MX34440V is part of the extensive battery powered garden machinery range from Cobra, which includes not only lawnmowers but also hedgetrimmers, leaf blowers and grass strimmers that are powered by rechargeable lithium-ion batteries that are interchangeable throughout the range. The battery can be fully charged from flat in 85 minutes, giving the MX3440V a run time of up to 30 mins – the perfect amount of time to take in nature and boost mental health.
For further information about Cobra, please visit www.cobragarden.co.uk and to find out more about Mind and the work the charity does, visit www.mind.org.uk.